NAGAI NORI INFORMATION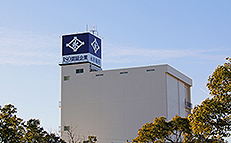 The product for higher Quality and Safety
Nagai Nori was established in 1947, and have been manufacturing and selling seaweeds since then. Our head office and two factories are in Toyohashi, Aichi.
We mainly sell seaweed, but we also sell shiitake mushrooms and health foods from Japan.
We have acquired ISO9001 in 2003 for the higher quality and safety. We also acquired Halal certificate for roasted seaweed from Nippon Asia Halal Association last year and we are planning to spread Japanese seaweed to the world.
PRODUCTS INDEX

Roasted Seaweed "YAKI NORI"
We have different size of roasted seaweed; whole size, 1/2 size, 1/3 size, etc. We only use seaweed from Japan and roasted with infrared oven to gain mild taste. You can enjoy the taste of seaweed itself.

Seasoned Seaweed "AJI NORI"
Nagai's seasoned seaweed is seasoned with our original sauce. Seasoned seaweed can be eaten as a snack and it is loved by people of all ages. Sold in many different packages.

Health Foods
We sell wide variety of health foods which are made in Japan; shiitake mushrooms, mozuku soup and brown sugar from Okinawa, green juice using young barly leaves from Kyusyu.

Gift Products
Gift products with roasted and seasoned seaweed, and other traditional Japanese food. Our gift products are popular due to its high quality.